Corporate Profile
Company name
ENSHU Limited
Head Office
4888,Takatsuka-cho,Minami-ku,Hamamatsu,Shizuoka432-8522,Japan
Phone:+81-53-447-2111 Facsimile:+81-53-448-6718
Factorys
●Takatsuka Factorys
4888,Takatsuka-cho,Minami-ku,Hamamatsu,Shizuoka432-8522,Japan
Phone:+81-53-447-2111 Facsimile:+81-53-448-6718
●Hamakita Factorys
788,Negata,Hamakita-ku,Hamamatsu,Shizuoka434-0016, Japan
Phone:+81-53-588-2670 Facsimile:+81-53-588-2469
Date Established
February5,1920
Capital
4,640 million Yen
Representative
Haruo Yamashita, President & Representative Director
Our Business
●Manufacturing and Sales of Machine Tools and Parts
(Flexible Transfer Systems & Lines, Specialized Machines,
and NC Milling Machines)
●Parts Machining for Motorcycle Engines, Snowmobiles,
Golf Carts, and Buggies
Subsidiary
・ ENSHU(USA)CORPORATION(CHICAGO)
・ ENSHU(USA)Corporation Mexico R.O.W.I(QUERETARO)
・ ENSHU GmbH(FRANKFURT)
・ ENSHU(Thailand)LIMITED(BANGKOK)
・ ENSHU(Thailand)LIMITED SRIRACHA BLANCH(SRIRACHA)
・ BANGKOK ENSHU MACHINERY CO.,Ltd.(BANGKOK)
・ PT. ENSHU INDONESIA(JAKARTA)
・ ENSHU(QINGDAO)LIMITED(CHINA QINGDAO)
・ ENSHU(QINGDAO)LIMITED Suzhou Branch Office(CHINA SUZHOU)
・ ENSHU(QINGDAO)MACHINERY CO.,Ltd.(CHINA QINGDAO)
・ ENSHU VIETNAM CO., LTD.(HANOI)
会社沿革
明治37年(1904年)
創業者 鈴木政次郎 足踏織機の製作を開始
大正 9年 2月
初代社長 喜多又蔵 鈴政式織機(株)設立
(資本金)200万円
(従業員)150名
(本社)浜松市板屋町【現 浜松市中区板屋町】
(工場)砂山町
(事業内容)大幅・小幅力織機(鈴政式織機)の製造販売
大正12年 6月
遠州織機(株)に商号変更
昭和 4年 1月
阪本式自働織機完成
昭和11年 7月
現在地(高塚)に移転
昭和12年 11月
工作機械製造開始
昭和14年 8月
フライス盤を完成
昭和16年 1月
遠州機械(株)に商号変更
昭和20年 10月
遠州織機(株)に商号変更
昭和21年 6月
織機製造再開
昭和33年 9月
フライス盤の製造再開
昭和35年 5月
遠州製作(株)に商号変更
昭和36年 10月
東京証券取引第一部上場
昭和43年 10月
マシニングセンタ完成
昭和45年 5月
遠州クロス(株)設立
昭和46年 4月
ユニワインド(株)設立
昭和51年 10月
ヤマハ発動機(株)の受託生産開始
平成 2年 10月
グッドデザイン賞受賞(マシニングセンタ4機種)
平成 3年 7月
ENSHU(USA)CORPORATION 設立
平成 3年 10月
遠州クロス(株)・ユニワインド(株)を吸収合併
エンシュウ(株)に商号変更
平成 9年 5月
ENSHU(Thailand)Limited 設立
平成10年 11月
ENSHU GmbH 設立
平成10年 11月
ISO9001認証取得
平成15年 9月
BANGKOK ENSHU MACHINERY Co.,Ltd. 設立
平成15年 12月
ISO14001認証取得
平成16年 12月
2004年度 TPM優秀賞第1類受賞
平成21年 5月
PT. ENSHU INDONESIA 設立
平成22年 6月
遠州(青島)機床製造有限公司 設立
平成22年 12月
遠州(青島)機床商貿有限公司 設立
平成23年 11月
ENSHU VIETNAM Co.,Ltd. 設立
平成26年 4月
ENSHU(USA)CORPORATION MEXICO R.O.W.I設立
平成29年 5月
ENSHU INDIA PVT Ltd.設立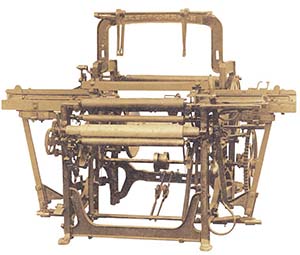 鈴政式織機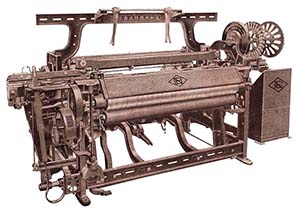 阪本式管替自働織機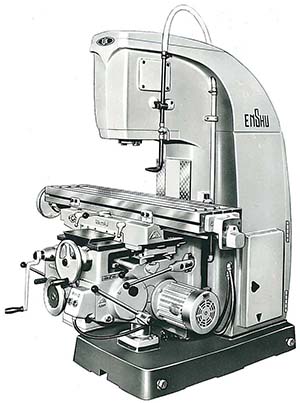 VF形立フライス盤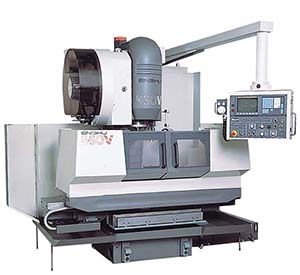 立形マシニングセンタ(550V)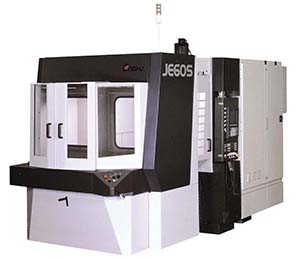 横形マシニングセンタ(JE60S)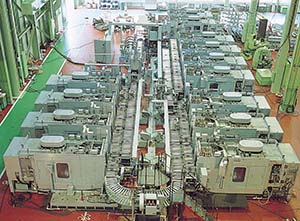 F・T・L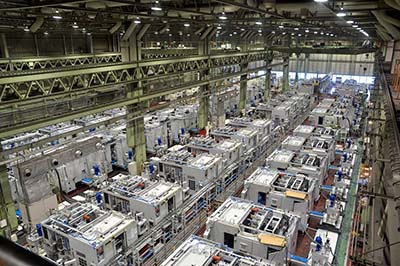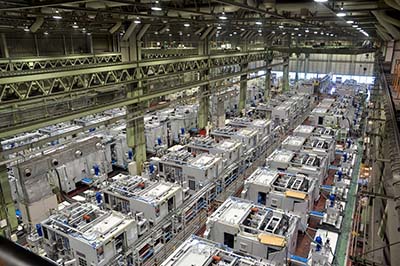 シリンダ・ブロック加工ライン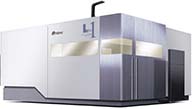 高出力半導体レーザー溶接システム"L1"
Company Divisions

Machine Tool & Laser Business Operations
Our main machine tool products are divided into system equipment and general purpose equipment.
System equipment specifically means FTL (Flexible Transfer Lines), FMS (Flexible Manufacturing Systems), and other types of production lines controlled by computers - rapidly becoming an essential characteristic of production plants in the 21st century.
General purpose machines are machining centers and NC machines. With a solid foundation of years of experience working with milling technologies, we offer nothing but the latest in mechatronic products.
Working together with Hamamatsu Photonics, we have developed a High Power Laser Diode Welding System which is available on the market now. We have also developed a High Power Laser Diode Plastic Welding System, which has made a big splash in the market.
Production of OEM products focused on a core of optical technologies are also getting off the ground.
Device Division
We manufacture parts for transport equipment, mainly made by Yamaha Motor Co., Ltd. Specifically, we machine parts for motorcycle engines, snowmobiles, golf carts, buggies, and other vehicles. We also machine and assemble diesel engines. Putting our own machine tools to full use, we apply the expertise and technologies we have accumulated in the field of machine tool manufacturing to machining and assembling parts.
We spare no effort in cutting costs, raising quality, and maximizing our operational efficiency.