Turning imagination into reality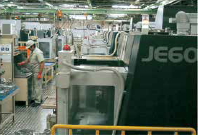 Enshu has the manufacturing department of automotive parts, so we have operated the mass-production line that included Enshu machine tools as a matter of course.
We can check our machine tools in user side perspectives, and it will be effective feedback to develop good products for customer.
We will always continue to propose a superior product with the user perspectives.
Ultimates in professionalism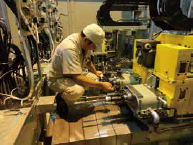 The manufacturing industry must also make constant changes in its production situation daily and even hourly in order to keep pace with the current age of international mega-competition.
To help meet these goals, our division established in1970 has worked night and day, intensively studying how to meet indlustry needs.
Our division's products centering mainly on the automotive industry overseas and of course in Japan have gained a high replutation throughout a wide range of fields.
Along with you, our customer, we will continue striving to meet the needs of a future emerging into a new century and to pursue the dreams that represent ideal engineering.